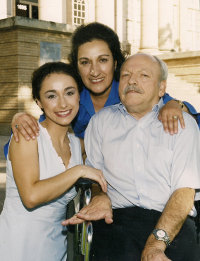 Robert Reid
Sharing the gospel with others has been a central part of Robert's life since 1971 in St. Louis. God has turned Robert's confinement to a wheelchair and his limitations due to cerebral palsy into an effective channel for drawing people to Him here in the United States and abroad in Portugal. Over the past 38 years, through chance encounters and meetings of people in restaurants and parks, Robert was able to set up personal Bible studies. These efforts over the years led to about 190 people coming to the Lord.
In 1997, he completed his Masters degree in Missions at Abilene Christian University. He served as a Missions Associate for six years. He was involved in a number of teaching roles,and he also encouraged many young people to give their time to share the gospel both here and around the world. He remained at Abilene Christian until 2003.
In December of 2003, Rosa and Robert returned to Lisbon, Portugal to continue their work as missionaries and for Robert to study Portuguese. Robert started a class of advanced Portuguese at the University of Lisbon and this gave him the opportunity to get involved with the students. The Lord blessed him in this endeavor. They worked at a local congregation for about 15 months, and then started group meetings in houses. Robert and Rosa returned to the States in 2006.
In January of 2007, Rosa and Robert began volunteering at the John Middleton Unit in Abilene where they continue to the present with a very active prison ministry .