Fellowship & Fun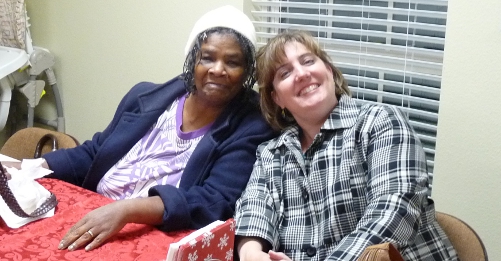 Here at Pecan Grove, we have been accused of doing a lot of "stuff"!! That's because we do! We are an active bunch that loves to get involved in our community and spend time with each other. Consequently, we often have many formal and informal gatherings as well as projects that many of us are working on throughout any given month.
Our calendar page has the latest dates and times of scheduled activities. The following is an example of the myriad of activities we have enjoyed together.
The last Friday of every month is Game Night. This is a regular gathering of any and all who would like to come and fellowship. We bring and share finger foods and play board games, dominoes, charades, and other games. The festivities start around 7 pm. Those who are not keen on game play often bring photo albums and scrapbooks to share memories and our lives with each other. This is also a great time to bring friends who might be intimidated by attending a church service.
The first Wednesday of every month is Singing Night. This is part of our regular Wednesday night gathering but worth mentioning here as well. This is a special time for sharing and worshipping in song. We have a lot of fun together learning new songs and singing some old standards.
A group of ladies meet several times a month as the "Grove Girls". At times they have done bible or book study but usually they are found meeting to work on some project. It could be a service project for the community like organizing a box of needs for the women's shelter, or it could be a frantic sewing session to create costumes for the Christmas play. Meeting times change but most often the "Grove Girls" can be found hard at work on Wednesday mornings around 10ish. The Grove Girls have also facilitated the production of two cookbooks with recipes from all the members.
Our Dinner Circles are another fun way we fellowship and grow stronger together. About twice a year people who want to participate sign up and then they are randomly assigned to a group with two or three other families. These groups meet together for dinners (or brunch) throughout the next several months, sometimes meeting in homes, sometimes restaurants. This has been a great way to really get to know people you might not have struck up conversations with in the normal course of churchgoing.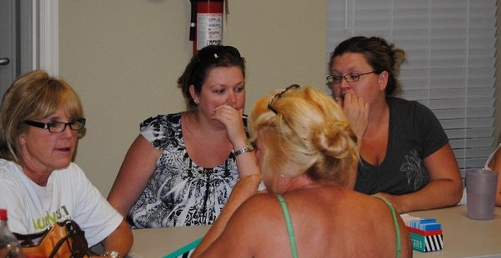 There are also many seasonal activities in which we spend a good deal of time and effort. We often have a New Year's Party, a Valentine's Mystery Dinner, and our annual Christmas party. We also have a very special Easter service that we share with Southwood Christian Church, our neighbor congregation.
In 2010, we had our first annual Summer Break Bible Bash, the third Saturday in July. It was our one day alternative to vacation bible school. The children participated in centers that included bible lessons, drama, art, crafts, water play, and more. The kids ate together and played together and a good time was had by all.
Other yearly activities include our participation in the Greenville Christmas Parade and our Fall Festival held the Friday before Halloween. Our parade floats have garnered the Mayor's Award in two of the last three years. Our Fall Festival is a night of fun for the whole family with costume contests, pumpkin and cake decorating contests, and tons of fun activities and prizes.