Missions
It is always forefront in a church community's mission to seek and save the lost. We feel that is important outside of our community as well. Therefore we devote a portion of our budget, as well as our prayers, to missions. We have partnered with domestic and international missionaries who are doing good works in the US and abroad. We have personal relationships with these special missionaries and we feel that we are an integral part of their calling. We currently support three international missionary works. Keith and Robin Honey are preparing to return to Botswana to join their daughter, currently working there. We also support Kennedy Mukuka, a native Zambian, who was educated in the United States and has returned to Zambia to open a school for training evangelists. Kennedy and his fellow countrymen are doing amazing work for the Lord in Zambia and the Price family at Chimala Mission in Tanzania. Our two domestic missions include Robert and Rosa Reed, and Boles children's home. Robert and Rosa Reed have a very active prison ministry in West Texas and Tasha is doing valuable work in Colorado.
Kennedy Mukuka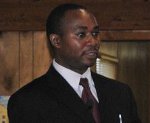 Keith and Robin Honey
While attending Texas A&M in the 1970s, Keith and Robin Honey were called to ministry in Africa. After 14 years of service in Zambia, Kenya, and Botswana, the Honeys returned to the US for the educational needs of their children. Now that their children are grown, (Their two sons, Jeremiah and his wife Chrissy and Keifer and his wife Lisa are presently living and working in Texas.) Keith and Robin are eager to return to Botswana and begin ministry there with their daughter, Elise. She, Elise, having graduated from college with a degree in elementary education, returned in 2009 to her birth country to teach in a small private school in Kasane, Botswana.

Keith and Robin will be located in Kasane which was chosen because of its central location in the Southern Africa region, its communication and transportation infrastructure which includes an international airport, and ready availability of goods, supplies and services. All these features make Kasane an excellent place to provide support for projects in the region. From this location, Keith and Robin will seek to partner with the Christian community of the region in fostering Spiritual, Agricultural, Educational and Micro-Economic development in an effort to ameliorate the conditions created by crushing poverty and the AIDS pandemic. Programs and projects will be piloted and implemented in Botswana and then introduced in the surrounding countries.

The Honeys are amply qualified for this task. Having previously lived in Botswana and Zambia, they are fluent in Setswana and speak other languages of the region in varying degree, such as Sembukushu, Tonga, and Lozi. This experience has generated a wealth of established contacts in the Christian communities of Botswana and the surrounding countries. They hold degrees in agriculture, education, and theology. The Honeys are experienced educators with Keith having served in school administration, four years as an administrator.

The Honeys hope to be back in Kasane by November 2010. For more information about their ministry see the following:www.africacrossroads.org
Keith and Robin Honey
P.O. Box 1025
Kasane, Botswanaohn  
Robert Reid
Sharing the gospel with others has been a central part of Robert's life since 1971 in St. Louis. God has turned Robert's confinement to a wheelchair and his limitations due to cerebral palsy into an effective channel for drawing people to Him here in the United States and abroad in Portugal. Over the past 38 years, through chance encounters and meetings of people in restaurants and parks, Robert was able to set up personal Bible studies. These efforts over the years led to about 190 people coming to the Lord.
In 1997, he completed his Masters degree in Missions at Abilene Christian University. He served as a Missions Associate for six years. He was involved in a number of teaching roles,and he also encouraged many young people to give their time to share the gospel both here and around the world. He remained at Abilene Christian until 2003.
In December of 2003, Rosa and Robert returned to Lisbon, Portugal to continue their work as missionaries and for Robert to study Portuguese. Robert started a class of advanced Portuguese at the University of Lisbon and this gave him the opportunity to get involved with the students. The Lord blessed him in this endeavor. They worked at a local congregation for about 15 months, and then started group meetings in houses. Robert and Rosa returned to the States in 2006.
In January of 2007, Rosa and Robert began volunteering at the John Middleton Unit in Abilene where they continue to the present with a very active prison ministry.