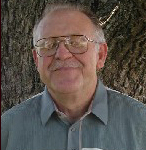 Glenn G. Murphy
Glenn G. Murphy and Rita, his wife of 48 years, were charter members of the Pecan Grove church when it first started on November 7, 1977. He has served as a Trustee, Elder, Bible School Teacher and Song Leader for several years.
They first moved to Greenville in 1968, along with their two children, Sonya and Mike. They now have six grandchildren ranging from 19 to 5 years of age. The oldest started college at Harding University in Searcy, Arkansas, during the fall of 2010 and the youngest started Kindergarten in Garland, Texas. All of his grandchildren are active in the LTC (Leadership Training for Christ) Program, which is also a vital part of Pecan Groves' teaching program. He has provided training for the LTC song leading program for the last 3 years, and all the young people that have participated have earned either a gold or silver medal.
Glenn graduated from the Missouri School of Mines and Metallurgy in Rolla, Missouri, in 1964 with a degree in Metallurgical Engineering. He worked as a Research Engineer in the Space Program at Rocketdyne, A Division of North American Aviation in Neosho, Missouri, until the plant closed in 1968 and then worked at the Greenville Aircraft Modification plant as a Registered Engineer for LTV Electro- systems, E-Systems Inc., and Raytheon until he retired in 1998.
He is an avid year-round hunter and supplies meat to several families. He also enjoys exercising by walking the roads, visiting with neighbors, picking up trash along the roadways, and is active in the recycling program. He donated almost 15 gallons of whole blood from 1972 until 2000 to the Carter BloodCare Program. He is the coordinator for the Shady Grove Community in their Neighborhood Watch and Adopt-A-Highway Programs, and is a volunteer worker and member of the Shady Grove Water Supply Corporation. Since retirement Glenn continues to work in varying capacities as a licensed Private Pesticide Applicator, a general Handyman, a 2010 Census Enumerator, and has helped build several storage buildings and three elaborate play houses with playground equipment. He and Tom Chennault teamed up to build the storage building and the playground at Pecan Grove church site. He was also active in building the existing auditorium and the education wing and continues to oversee the Building and Grounds program and Administration at Pecan Grove.